One page keeping you up to date with all the latest, best and worst 360º cameras money can buy. There are now a whole host of 360 degree cameras that won't damage your wallet to much should you want to buy one as a beginner or if you can afford the extra splurge, you can shoot in even higher quality with some amazing pro cameras. Just bare in mind their isn't a camera that is amazing at everything, you'll have to decide which you're likely to do more, shoot video or images.
This is a list I'll be constantly updating of all the best 360 cameras I feel are worth considering currently available to buy out there, starting with the cheapest first:
Updated: 11th November 2022.
The Z Cam S1 Pro is a professional 6K 360 camera with four Micro Four Thirds sensors for exceptional image quality and capture 3D 360 video in 6K resolution (6144 x 6144) and live streaming.
Price: £6,300 ($8,880).
This is a popular professional 360 camera as its one of the most affordable. With the Sony Micro 4/3 image sensor, it will allow for superior low light sensitivity and dynamic range. However it doesn't come with the stitching software, that's a further charge on top or if you already use a 3rd party stitcher like Mistika, then you can just use that.
The Live Planet Camera is a 3D-360 degree camera with live streaming in 4k perfectly stitches and encodes in real time, right on board and produces Natural VR™ – Using 3D industry standard optics to allow viewers to comfortably watch VR content for extended periods of time. It has a total of 16 cameras and it produces a fully stitched stereoscopic video on a single Micro SD card. Other features include Flawless onboard stereo stitching, Real time colour grading, HDR video, noise reduction, usb audio,live streaming to all major platforms and VR180 support.
The Live Planet camera is remarkably compact compared to some 3D 360 camera rigs, at only about 4 inches length and 3.5 inches height and 1.5 lbs. weight. Live Planet's tagline is "15 minutes to fame." This refers to Live Planet's goal of simplifying the live streaming or recording process so that users can start live streaming to all major VR platforms in just 15 minutes. However this is a little pricey now considering it only 4k, I wouldn't recommend buying this.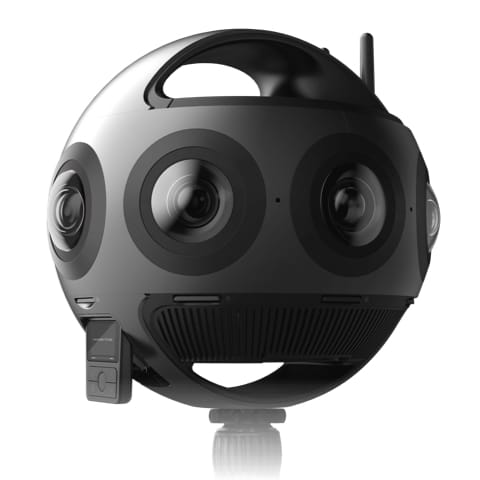 The Insta360 Titan is a new professional 360 camera from the makers of the popular Insta360 Pro. The Titan features 8 micro four thirds sensors that can shoot up to 11K 360 photo + video, It can capture 11K 360 photos in 2D or 3D. HDR photo, smooth 9-axis FlowState stabilization and long range low-latency wireless control with Insta360 Farsight, which is a transceiver system for smartphones or tablets, which has a maximum distance of 1 km (when there is a clear line of sight). It's also been confirmed that the software to stitch the Insta360 Titan video will be free and will be no stitch editing with Adobe Premiere Pro. It captures 10-bit color, allowing for billions of color combinations and high color accuracy. It also has much higher dynamic range, and low light sensitivity than 360 cameras that use smaller sensors. To playback full quality you have to use CrystalView, which does work even on mainstream smartphones and headsets. Titan uses 9 SD cards. It uses the same workflow as the Insta360 Pro 2. The Titan can be connected via an ethernet cable to a desktop running the Insta360 Stitching software, which will be able to read from all 9 cards and show previews of the photos and videos. The Insta360 Stitcher will gather the files automatically from the nine SD cards. Alternatively, you can remove the SD cards and insert them into card readers that are plugged into a multi-port USB hub. As with an ethernet connection, the desktop software will be able to read from all 9 cards and show previews. Find out more here.
Price: £14,999 ($14,999 USD)
The Titan is a high end camera for those that have a mega budget to shoot, It does look incredible, but sadly I will never own one 🙁 The Titan's size is significantly larger than the Insta360 Pro or Insta360 Pro 2. Currently youtube can only handle up to 8k so any video you upload will be downscaled, the only way to view full quality for now is with crystal view. Don't forget you'll need 9 memory cards, so add on a few hundred to the total price.
11K 62MP waterproof (Should support DNG8 and Raw+) 5.7K 30fps, 4K 60fps Video Spatial audio + replaceable battery + touch screen with offset optical design
Price: TBC
Looking like a copy of the Go Pro Max, I'm not sure what Kandao are thinking. The specs aren't great either, with less video quality than the old Qoocam 8k and 11k images no doubt similar to that of the insta360 x3. To me this doesn't seem like an upgrade, it's more like a sideways step.
Meet the Mosaic Viking, a professional 360 camera that can capture 180mp, 22K resolution photos at up to 5 fps using 6 x 31MP APS-C size sensors.
Price: TBC
The image quality from Jeffery Martin's post here looks incredible. Needless to say this will be a pricey piece of kit aimed toward larger professional businesses. If you'd like to find out more you can enquire on their official webpage here.
The XPhase Pro S2 is the updated version of XPhase Pro S the highest resolution 360 camera as of November 2020. The S2 has an all-metal structure making it more stable than the old with metal mounting brackets for the lenses helps to improve heat dissipation. The XPhase is a 360 camera with 25 sensors, each with 8 megapixels, for a total resolution of 200 megapixels although that's the unstitched image. When stitched photo resolution is 16384 x 8192 (134mp). It cannot shoot video nor will have live view because 25 cameras all shooting simultaneously will require huge power and processing. The main notable difference of the XPhase though is that it is more affordable than other 16k cameras.
Price: £700 ($979).
On paper the specs look great and almost double the resolution of the previous record holder, which was the Panono, which has 36 sensors, each with 3 megapixels, for a total resolution of 108 megapixels. However that significantly drops after stitching so the true resolution is actually 134mp, 16k. It isn't capable of shooting video and is image only which limits its versatility. If you're not interested in video then this is a great camera and should produce some fantastic virtual tours. If your looking for a fun point and shoot, then don't buy. The workflow to get the best out of this camera will be to long for happy snaps.
Pilot Lock is a 8K 360°Camera for live streaming in harsh environments, with a dust and waterproof design that is IP67 rated. Equipped with an upgraded real-time built-in 9-axis stabilization for steady image quality and 8K live streaming on-the-move. Performs well even in extreme environments with temperatures as low as -40℃, and as high as 55℃, making it possible to live streaming outdoor for long periods. Find out more at the official website here.
Price: Not yet announced.
Claiming to be the World's first stitch-less 360° camera. At 12K, 72 megapixels, 12-bit color, eleven f/2.0 channels, 60fps, live streaming in 12k and a 3 ft. Minimum Object Distance. Instead of depending on overlapping fields of view (FOV) to create a full 360° image, they have developed a method of aligning fields of view using polygonal FOV to fill 360°. This method eliminates parallax and creates a complete image at the hardware level. No post-stitching required. You get an instant image just like any other camera.
Price: Not yet announced, but given the specs, the presumably large and high resolution sensor, and the custom optics, I imagine it will be on the more quite expensive side. you can ask to be a beta tester here
Linkflow FITT360 is the world's first wearable 360 camera. A neck-worn 360 camera with three fisheye lenses that can capture 4K stabilized 360 video hands-free from a first person perspective. 60 minutes Continuous recording, USB C-type, 64GB internal memory plus external memory card slot and Live streaming. Official website here.
Launched on Kickstarter where it is currently available on preorder for $417.
Expected Price around: $700.
There will be blind spots on the zenith and nadir as your body will be in the way, but I like the hands free idea.
However I would personally wait for an official release as crowdfunding sites are not the same as pre ordering. Products are often late, sometimes not released at all and backers have next to no remedy. I was once stung with the VRDL360.
360fly is launching the 4K Pro and the 4K Pro Dual Camera rig. The 4K Pro is similar to the 360fly 4K, but with integrated USB and HDMI cables so that it can stream at hemispherical 4K resolution (2880 x 2880) while connected to a power source. As with the 360fly 4K, the 4K Pro is waterproof and dustproof. 360fly 4K Pro is certified to be Facebook Live 360 Ready. The 4K Pro Dual Camera rig allows you to set up two 4K Pro cameras to be used side-by-side for 3D 180 or back to back for full 360º capture.
Price: $799, for release in September.
It's aimed for commercial use rather then consumer use. Find out more here.
Facebook And RED Collaborate On Pro 360 Camera 'Manifold' Designed for immersive 6DoF storytelling, the Manifold camera features 16 RED Helium 8K Sensors with custom Schneider 180-degree fish eye lenses. This allows for volumetric image capture, meaning users of VR headsets can actually move round a scene to a certain degree, not just looking round in 360 but behind objects as well. The camera uses a single SMPTE 304M cable for power. The camera control unit & storage device can be located up to 100m from the camera head with five 12G SDI outputs for monitoring or third-party stitch processing. There are font of lens ND filters available and quick release handles for maneuvering and setup.
Price: There are no details of when Manifold will be available but you can expect it to be targeted at high-end studio work seeing that a single RED DSMC2 Helium Brain costs $24,500 and the Manifold has 16 of these sensors.
My recommended choices to buy right now would be Insta360 One RS best all rounder, Qoocam 8K best video, Ricoh Theta Z1 best photos, especially for virtual tours. For VR180 would be the Vuze XR. These are the best currently out there on the market for consumers and the developers are listening to feedback, innovating and adding new features all the time. However I would recommend deciding on these cameras depending on if you prefer to use video or images, sadly there is no camera that is amazing at both.
If you want to take the step up, shoot pro and have the budget.
You'll want to buy a camera that is well supported with future firmware updates and all mentioned above have been doing exactly that.
If you found this helpful, please like and follow my social pages
What Camera would you recommend?
Originally posted on 6th June 2017
We are sorry that this post was not useful for you!
Let us improve this post!
Tell us how we can improve this post?